太空戰士
魔物獵人
邱澤
[hr]
USB to 4-Port RS-232 Adapter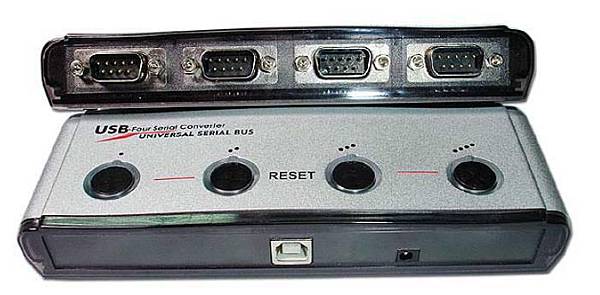 The USB to 4-port RS-232 adapter, is a low-cost, high-performance device. It operates as a bridge and provides single and easy connection between one USB port and four serial ports. Each serial port can be independently configured into various synchronous and asynchronous interfaces. Users can h
av
e the option to operate
multiple devices at the same time. This product is designed to accommodate those peripherals with serial-port, like cellular phone, digital camera, modem, mouse, PDA, GPS, ISDN terminal adapter, etc.
Feature :
l Full compliance with the USB Specification 1.1 & 2.0
l Over 1Mbps transfer rate per port
l Supports the asynchronous serial interfaces.
l Supports remote wake-up and power management
l Compatible Windows 98SE / ME / 2000 / XP / Vista / 7. Mac OS-8.6 /OS-9/OS-X,Linux,Win CE, Win Server 2003 & Win Server 2008.
Specification:
Chips: FTDI
Interface: RS-232
Compliant: USB Spec.1.1 & 2.0
Connector: Upstream
USB Type :B Male
Device: DB-9 Male x 4
Power Mode: Bus
Cable Length: 1.8M
Housing: Aluminum
USB to RS232 4 ports 採用 FDTI chip set,提供給 智邦科技
測試
, 至今智邦科技 累計 採購 超過 70 pcs, 原因 在於 產品穩定 , 無data loss 在 最高 速率之下, 智邦測過 多種品牌皆有 data loss 現象, 隻有本產品 過關.
建議 可放心使用,
聯絡人: 黃先生 09
88
-238989
email:
frank88.huang@hotmail.com
GPS工具軟體
USB to 4-Port RS-232 Adapter