相姦
上古卷軸4
幼姦
[hr]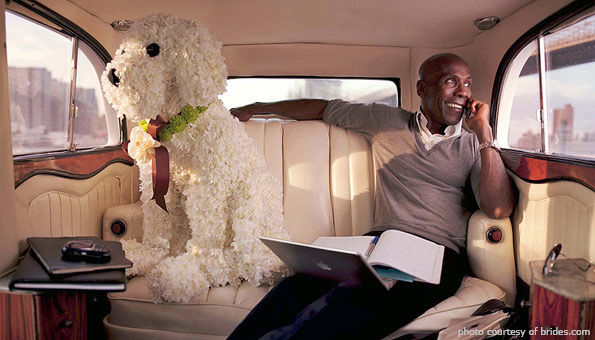 Preston Bailey
Preston Bailey is one of the world's preeminent event designers. His clients include Donald and Melania Trump and Melissa Rivers. He is also the author of three bestselling books: Design for Entertaining, Fantasy Weddings and Inspirations
Preston Baile
應該是很多花藝設計師心中最想要達到的境界大師之ㄧ吧~
除了手藝靈巧 敏銳的藝術嗅覺
對顏色和材料的變化 似乎已到了出神入化的境界
當然我們
台灣
本土
也有許多厲害的設計師其功力也不在話下
隻是欠缺了像Preston的運氣
在
美國
擁有廣大的豪奢客戶群
例如唐納川普 歐普拉 各政尚界名流等等
畢竟 要有很多很多的錢
才能堆砌出這樣的花山花海吧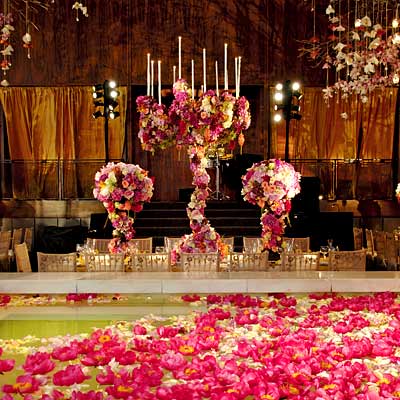 Sea of Peonies 在紐約四季飯店的牡丹花海 太貴氣啦
"At the Four Seasons in New York , we got permission to create a sea of peonies. Talk about a dramatic statement and a wonderful aroma. The centerpieces were 8-foot candelabras covered with roses, hydrangeas, peonies, and petal garlands. We also brought in our own trees which were decorated with dried le
av
es, orchids, crystals, and hanging votives."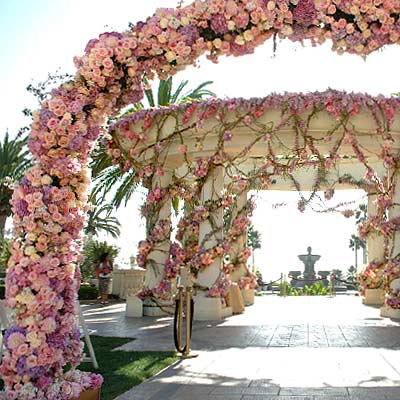 加州的玫瑰花拱門
For this outdoor ceremony in California , I wanted the beauty of nature to shine through. We created two floral arches covered in rose garlands leading to the gazebo which we draped in roses and wisteria. One of the best things about an outdoor ceremony is that you don't have to worry about the ceiling!"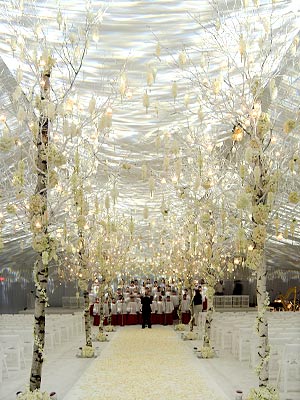 Opposites Attract 在佛羅裏達州製造出美國冬天的衝突景色)
"I created this Winter Wonderland wedding in Florida . I loved the juxtaposition of the warm location and the cool, icy look of the ceremony. Winter Wonderland has definitely become a specialty of mine."
運用編織法的花籃 豐富的配色及創新的設計 為整個空間帶來春色"For this event at Spago, I created this spring-basket inspired centerpiece. I used the traditional basket weave but updated it with a more modern, sculptural feel. The pink and orange florals really pop in the yellow dining room."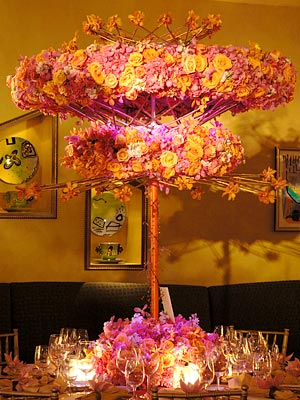 用四種不同白色的花 雕砌的桌上布置 高度與大小 實在驚人
Farm Charm 把秋天的楓紅樹搬近農舍中 沒有鮮花也美極了
"For this ceremony, which took place on my client's farm, we filled the barn with oversized trees decorated with autumn leaves, crystal accents, and hanging votives. This is one of my favorites because I got to bring nature indoors."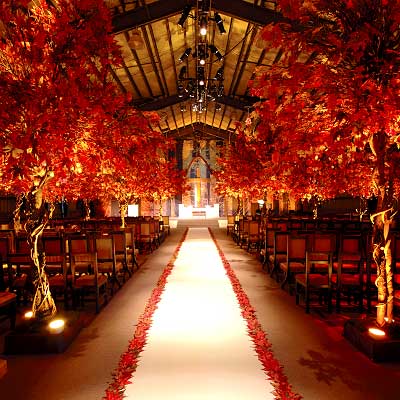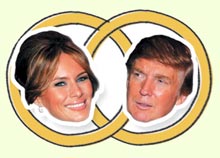 Trump Card 富豪唐納川普在2005年迎娶30歲的MODEL
(在他的PalmSpring 的Mar-a-Lago宴會廳)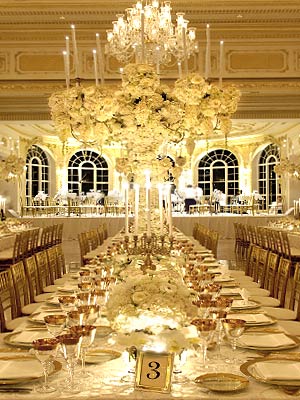 "Donald Trump designed the ballroom at Mar-a-Lago specifically for his wedding, so we wanted to make sure that our look would compliment, not overpower the intricate detailing. Melania envisioned simple white candelabras, but of course I suggested she go a bit bigger. We ended up creating these 10-foot tall gold candelabras decorated with white tapers and an array of white flowers."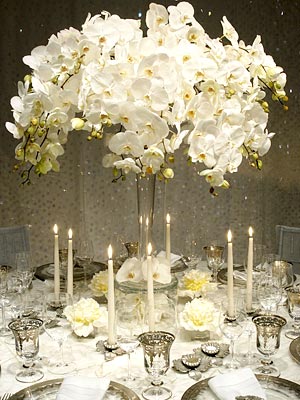 Floral Fancy 白色的蝴蝶蘭~這個在台灣應該不難 我們有很多蘭花....
"Orchids are such an elegant flowers, I let them do all the work here. Putting them in a tall trumpet vase displays their intricate beauty and to keep the tables graceful, I added a few peonies in simple glass containers and white taper candles. The tarnished gold on the glasses and chargers is the perfect accent."
百首單曲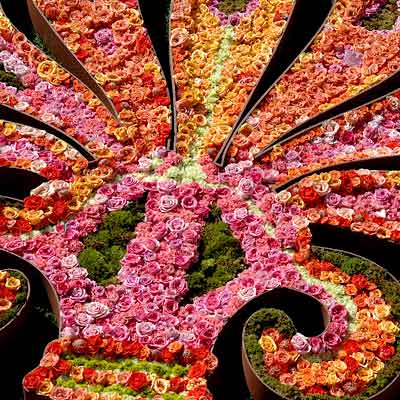 Statement Making 用運玫瑰和繡球花等花材
在戶外排程與毛狀的迎賓廊
真是大手筆
"This was a crest we created to adorn the aisle for an outdoor wedding. I am a big believer in greeting guests with dramatic statements. We used moss and roses with a touch of hydrangea to create this elaborate floral sculpture
===============================================================
Preston常上遍美國各大雜誌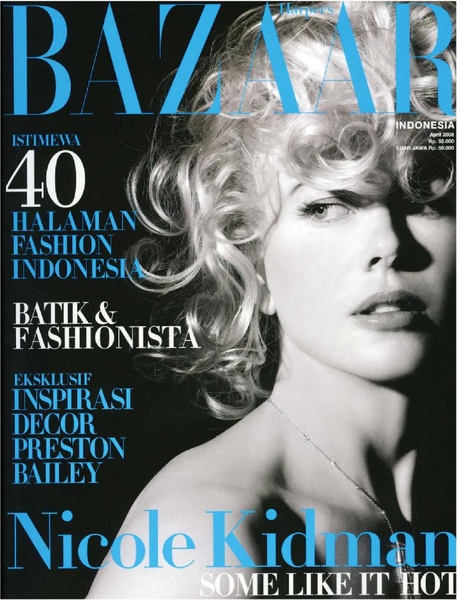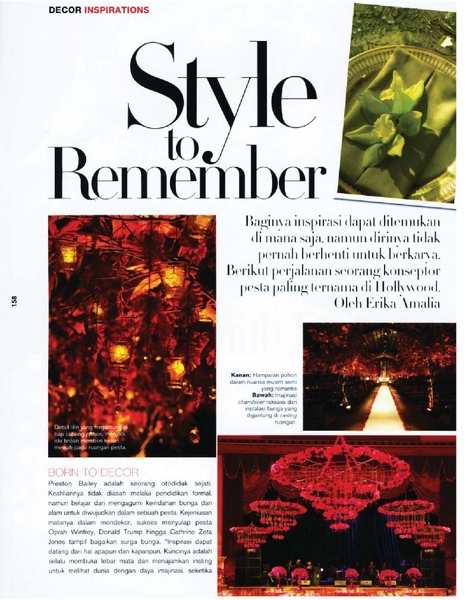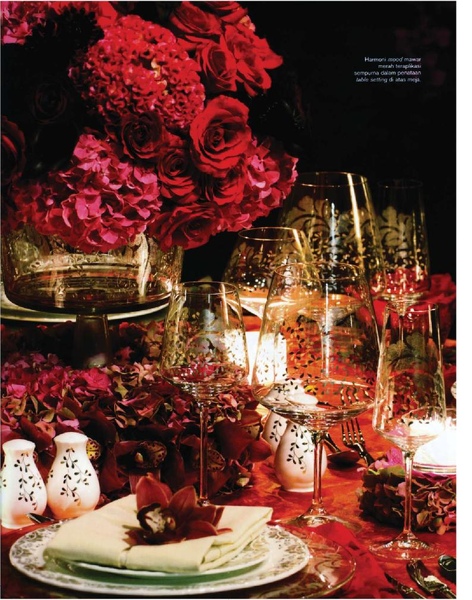 資料來源:
http://www.prestonbailey.com/default.htm
(Preston Bailey的官網)
Celebrity Wedding Planners Instyles weddings雜誌