獸姦
foxy
[hr]
今天4月10日,休士頓一份發行於北部 Atascosita, Humble and Kingwood 等社區的地方週報《Tribune》,以三分之一的版面,詳細介紹了女兒 Jenny Wang 以及她所接手的王氏家族之中餐館"湘園",老媽將其轉載於UDN,和大家分享: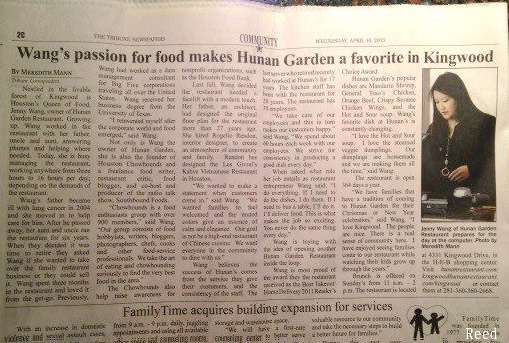 Wang's passion for food makes Hunan Garden a favorite in Kingwood
Monday, April 08, 2013
By Meredith Mann
Nestled in the livable forest of Kingwood is Houston's Queen of Food, Jenny Wang, owner of Hunan Garden Restaurant. Growing up, Wang worked in the restaurant with her father, uncle and aunt, answering phones and helping where needed. Today, she is busy managing the restaurant, working anywhere from three hours to 16 hours per day; depending on the demands of the restaurant.
Wang's father became ill with lung cancer in 2004 and she moved in to help care for him. After he passed away, her aunt and uncle ran the restaurant for six years. When they decided it was time to retire they asked Wang if she wanted to take over the family restaurant business or they could sell it. Wang spent three months in the restaurant and loved it from the get-go. Previously, Wang had worked as a data management consultant for Big Five corporations traveling all over the United States. Wang received her business degree from the University of Texas.
"I reinvented myself after the corporate world and food emerged," said Wang.
Not only is Wang the owner of Hunan Garden, she is also the founder of Houston Chowhounds and a freelance food writer, restaurant critic, food blogger, and co-host and producer of the radio talk show, Southbound Foods.
"Chowhounds is a food enthusiasts group with over 900 members," said Wang. "Our group consists of food hobbyists, writers, bloggers, photographers, chefs, cooks and other food-service professionals. We take the art of eating and chowhounding seriously to find the very best food in the area."
The Chowhounds also help raise awareness for nonprofit organizations, such as the Houston Food Bank.
Last fall, Wang decided the restaurant needed a facelift with a modern touch. Her father, an architect, had designed the original floor plan for the restaurant more than 27 years ago. She hired Rogelio Rendon, interior designer, to create an atmosphere of community and family. Rendon has designed the Les Givral's Kahve Vietnamese Restaurant in Houston.
"We wanted to make a statement when customers come in," said Wang. "We wanted families to feel welcomed and the muted colors give an essence of calm and elegance. Our goal is not be a high-end restaurant of Chinese cuisine. We want everyone in the community to dine with us."
Wang believes the success of Hunan's comes from the service they give their customers, and the consistency of the staff. The last server who retired recently had worked at Hunan's for 17 years. The kitchen staff has been with the restaurant for 20 years. The restaurant has 30 employees.
"We take care of our employees and this in turn makes our customers happy," said Wang. "We spend about 60 hours each week with our employees. We strive for consistency in producing a good dish every day."
When asked what role her job entails as restaurant entrepreneur Wang said, "I do everything. If I need to do the dishes, I do them. If I need to bus a table, I'll do it. I'll deliver food. This is what makes the job so exciting. You never do the same thing every day."
Wang is toying with the idea of opening another Hunan Garden Restaurant inside the loop.
Wang is most proud of the award they the restaurant received as the Best Takeout/Home Delivery 20
11
Reader's Choice Award.
Hunan Garden's popular dishes are Mandarin Shrimp, General Tsao's Chicken, Orange Beef, Crispy Sesame Chicken Wings, and the Hot and Sour soup. Wang's favorite dish at Hunan's is constantly changing.
"I love the Hot and Sour soup. I love the steamed veggie dumplings. Our dumplings are homemade and we are making them all the time," said Wang.
The restaurant is open 364 days a year.
"We have families that have a tradition of coming to Hunan Garden for their Christmas or New Year celebration," said Wang. "I love Kingwood. The people are nice. There is a real sense of community here. I have enjoyed seeing families come to our restaurant while watching their kids grow up through the years."
Brunch is offered on Sunday's from 11 a.m. – 2 p.m. The restaurant is located at 4331 Kingwood Drive, in the H-E-B shopping center. Visit hunanrestaurant.com/kingwoodhunanrestaurant.com/kingwood or contact them at 281-360-360-2668.
Photo: Jenny Wang of Hunan Garden Restaurant prepares for the day at the computer. Photo by Meredith Mann
原文出處:
http://www.ourtribune.com/article.php?id=15055
次日,4月11日,女兒Jenny Wang的另一篇大作,在休士頓紀事報的
首頁
上方
以及每週四隨報附送的一份觀光
旅遊
指引週報《Houston City Guide 29-95》做為封面故事推出: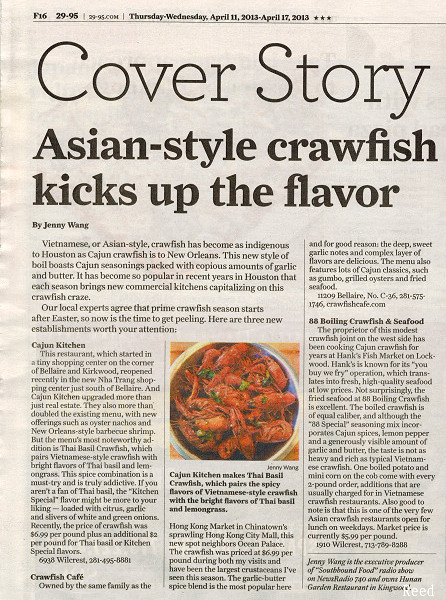 新世紀
亦提前於4月10日,在其網站首頁上發表:
Asian-style crawfish kicks up flavor
<< How to eat crawfish | Main | Rihanna headlines big week >>
2995 at 11:38 am on April 10, 2013
Crawfish with 88 Special seasoning.:
Cody Duty/Houston Chronicle
Vietnamese, or Asian-style, crawfish has become as indigenous to Houston as Cajun crawfish is to New Orleans. This new style of boil boasts Cajun seasonings packed with copious amounts of garlic and butter. It has become so popular in recent years in Houston that each season brings new commercial kitchens capitalizing on this crawfish craze.
Our local experts agree that prime crawfish season starts after Easter, so now is the time to get peeling. Here are three new establishments worth your attention:
Cajun Kitchen
This restaurant, which started in a tiny shopping center on the corner of Bellaire and Kirkwood, reopened recently in the new Nha Trang shopping center just south of Bellaire. And Cajun Kitchen upgraded more than just real estate. They also more than doubled the existing menu, with new offerings such as oyster nachos and New Orleans-style barbecue shrimp. But the menu's most noteworthy addition is Thai Basil Crawfish, which pairs Vietnamese-style crawfish with bright flavors of Thai basil and lemongrass. This spice combination is a must-try and is truly addictive. If you aren't a fan of Thai basil, the "Kitchen Special" flavor might be more to your liking - loaded with citrus, garlic and slivers of white and green onions. Recently, the price of crawfish was $6.99 per pound
plus
an additional $2 per pound for Thai basil or Kitchen Special flavors.
6938 Wilcrest, 281-495-8881
Crawfish Café
Owned by the same family as the Hong Kong Market in Chinatown's sprawling Hong Kong City Mall, this new spot neighbors Ocean Palace. The crawfish was priced at $6.99 per pound during both my visits and have been the largest crustaceans I've seen this season. The garlic-butter spice blend is the most popular here and for good reason: the deep, sweet garlic notes and complex layer of flavors are delicious. The menu also features lots of Cajun classics, such as gumbo, grilled oysters and fried seafood.
11209 Bellaire, No. C-36, 281-575-1746,
www.crawfishcafe.com
88 Boiling Crawfish & Seafood
The proprietor of this modest crawfish joint on the west side has been cooking Cajun crawfish for years at Hank's Fish Market on Lockwood. Hank's is known for its "you buy we fry" operation, which translates into fresh, high-quality seafood at low prices. Not surprisingly, the fried seafood at 88 Boiling Crawfish is excellent. The boiled crawfish is of equal caliber, and although the "88 Special" seasoning mix incorporates Cajun spices, lemon pepper and a generously visible amount of garlic and butter, the taste is not as heavy and rich as typical Vietnamese crawfish. One boiled potato and mini corn on the cob come with every 2-pound order, additions that are usually charged for in Vietnamese crawfish restaurants. Also good to note is that this is one of the very few Asian crawfish restaurants open for lunch on weekdays. Market price is currently $5.99 per pound.
1910 Wilcrest, 713-789-8288
Jenny Wang is the executive producer of "Southbound Food"radio show on NewsRadio 740 and owns Hunan Garden Restaurant in Kingwood.
原文出處:
http://www.29-95.com/restaurants/story/asian-style-crawfish-kicks-flavor
29-95 >
Entertainment >
Restaurants & Bars
Pound for pound, some of the best crawfish in Houston
By Jenny Wang | April 10, 2013 | Updated: April 11, 2013 10:58am
原文出處:
http://www.chron.com/life/food/article/chron.com/entertainment/restaurants/article/Pound-for-pound-some-of-the-best-crawfish-in-4423899.php?cmpid=ael